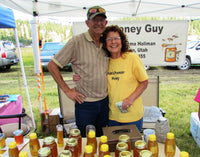 Bill & Norma's Story
Bill Holiman, better known as 'The Honey Guy', had his first bee hive at 13 years of age. During his high school years he worked for a commercial beekeeper. It was a short time after he married his high school sweetheart that his father-in-law bought out an entire bee operation from a retiring beekeeper. After which he owned and operated over 4,000 hives. To say they were up to their eyeballs in bees and honey 24/7 is an understatement.
After being away from the actual hands on for a couple of decades and being retired, he just had to get back into bees. He purchased 12 hives and attached them to a small trailer. Today he has 24 hives on a larger trailer. He likes the trailer idea as he moves the bees from orchard to orchard and field to field, depending where the blooms are.
Bill has seen the evolution that has taken place within the beekeeping industry the last 20 to 25 years with Varroa Destructor mite, the Deformed Winged Virus and Tracheal mite inside the hive. GMO crops and insecticide being sprayed outside the hive. It's become quite difficult for beekeepers to keep their bees alive. However, Bill is up to the challenge as he consistently produces 3 times the amount of honey as the state average.